Homepage > Artists > Ingrid Paulussen
Summer vibes
SUMMER VIBES
Ingrid Paulussen
2022
Dimensions: 140x100x7 cm
Medium : Peinture et collage
Œuvre unique sous plexiglass
Livrée avec certificat d'authenticité
Médaillon Saphir
MEDAILLON SAPHIR
Ingrid Paulussen
2022
Dimensions: 140x100x7 cm
Medium : Peinture et collage
Œuvre unique sous plexiglass
Livrée avec certificat d'authenticité
Aleksandra
ALEKSANDRA
Ingrid Paulussen
2022
Dimensions: 140x100x7 cm
Medium : Peinture et collage
Œuvre unique sous plexiglass
Livrée avec certificat d'authenticité
Evita
EVITA
Ingrid Paulussen
2022
Dimensions: 140x100x7 cm
Medium : Peinture et collage
Œuvre unique sous plexiglass
Livrée avec certificat d'authenticité
Love and pain
LOVE AND PAIN
Ingrid Paulussen
2022
Dimensions: 140x100x7 cm
Medium : Peinture et collage
Œuvre unique sous plexiglass
Livrée avec certificat d'authenticité
Rebecca
REBECCA
Ingrid Paulussen
2022
Dimensions: 140x100x7 cm
Medium : Peinture et collage
Œuvre unique sous plexiglass
Livrée avec certificat d'authenticité
NAO
NAO
Ingrid Paulussen
2020
Dimensions:190×110 x7 cm
Medium : Peinture et collage
Œuvre unique sous plexiglass
Livrée avec certificat d'authenticité
VOGUE PEACH
VOGUE PEACH
Ingrid Paulussen
2021
Dimensions: 80x80x7 cm
Medium : Peinture et collage
Œuvre unique sous plexiglass
Livrée avec certificat d'authenticité
After studying Fine Arts in Hasselt (Belgium) Ingrid Paulussen specialized in the art of portraits.
His three-dimensional portraits are the result of a long journey of 25 years of research and experimentation with different materials. Picasso's freedom and Matisse's cut outs inspired the artist to work his portraits with (recycled) paper in order to obtain a work between painting and sculpture, between figuration and abstraction.
Characteristic of his work is the line of paper that divides the face. It is an ode to Matisse and at the same time it represents the beauty of symmetry. The paper on the painted portrait has a visible skin effect concealing the true character of being. Paulussen's work is a reflection on female beauty: its vulnerability, its mysticism, and the power it bestows on women.
She has been exhibited in Maastricht , Paris, London and Miami .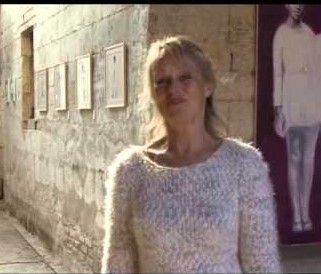 Il n'y a pas d'exposition(s) à afficher pour le moment