Homepage > Artists > Tommaso OTTIERI
PARIS SACRE COEUR I
Tommaso OTTIERI
2023
Dimensions:100×100 cm
Medium : Oil on wood
Œuvre unique
Livrée avec certificat d'authenticité
VENEZIA SALUTE BLUE
VENEZIA SALUTE BLUE
Tommaso OTTIERI
2023
Dimensions: 100×100 cm
Medium: Oil on wood
Oeuvre unique
Livrée avec certificat d'authenticité
ROMA COLOSSEO
ROMA COLOSSEO
2023
Dimensions:100×120 cm
Medium : Oil on wood
Œuvre unique
Livrée avec certificat d'authenticité
OPERA DE BAYREUTH
Tommaso OTTIERI
2023
Dimensions:100×120 cm
Medium : Oil on wood
Œuvre unique
Livrée avec certificat d'authenticité
PARIS SACRE COEUR 2
PARIS SACRE COEUR 2
Tommaso Ottieri
2023
Dimensions:110×120 cm
Medium : Oil on wood
Œuvre unique
Livrée avec certificat d'authenticité
NY BLACK AND WHITE
NY BLACK AND WHITE
Tommaso OTTIERI
2023
Dimensions:120x120cm
Medium : Oila on wood
Œuvre unique
Livrée avec certificat d'authenticité
ROMA RUBINO
ROMA RUBINO
Tommaso OTTIERI
2023
Dimensions 115×160 cm
Medium : Oil on wood
Œuvre unique
Livrée avec certificat d'authenticité
NY CHRYSLER BUILDING
NY CHRYSLER BUILDING
Tommaso OTTIERI
2023
Dimensions:160×150 cm
Medium : Oil on wood
Œuvre unique
Livrée avec certificat d'authenticité
VENEZIA ORO
VENEZIA ORO
Tommaso OTTIERI
2023
Dimensions:120×200 cm
Medium :Oil on wood
Œuvre unique
Livrée avec certificat d'authenticité
OPERA REGIO DI PARMA
OPERA REGIO DI PARMA
Tommaso Ottieri
2023
Dimensions: 150×200 cm
Medium: Oil on wood
Œuvre unique
Livrée avec certificat d'authenticité
SIRENE
Sirene

Tommaso Ottieri
2016
Dimensions: 200x150cm
Medium : huile sur toile
Œuvre unique
Livrée avec certificat d'authenticité
CASTEL SAN ANGELO
Castel San Angelo

Tommaso Ottieri
2016
Dimensions: 110x160cm
Medium : huile sur bois
Œuvre unique
Livrée avec certificat d'authenticité
La SCALA
La Scala

Tommaso Ottieri
2016
Dimensions: 110x160cm
Medium : huile sur bois
Œuvre unique
Livrée avec certificat d'authenticité
ROMA
Roma

Tommaso Ottieri
2016
Dimensions: 100x150cm
Medium : huile sur bois
Œuvre unique
Livrée avec certificat d'authenticité
Born in 1971 in Naples. Studied architecture at the University Federico II of Naples and at the Robert Gordon School of Architecture di Aberdeen (UK). In 1996 he graduated with a thesis on bio architecture applied to the restoration of Naples's Harbor in 1990-95. During the same year Ottieri won a M.I.T Leonardo da Vinci's program studying grant and decided to go to the Cicladi Island (Greece) to study the body of rules of biocompatible art and architecture.
Great architects and artists are his source of inspiration, beside the great master of which he tries to follow suit. His research is oriented towards the definition of highly saturated scenarios, visually and chromatically, to propose a vision of the urban landscape and to seek a role in its construction.
Ottieri portrays opulent buildings and cityscapes, modern and historical at the same time, using shades of red, blue and golden yellow. His artwork seeks to achieve expressive and emotional quality. In 2003 he had the first two solo shows in Naples. In 2010 he started to exhibit internationally. Throughout his career Ottieri won several prizes and awards. In 2011 he was selected to participate at the 54th Venice Biennale. The works of Tommaso Ottieri portray buildings and cityscapes that are opulent, modern and of the same historical time period, painting in the tones of red, blue and golden yellow. His works seek to achieve an expressive and emotional quality.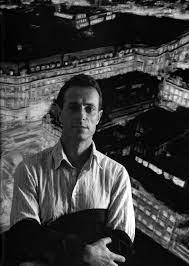 Il n'y a pas d'exposition(s) à afficher pour le moment